SPORTS HALL of FAME 2017 LEGACY AWARD
CLASS OF 1934-35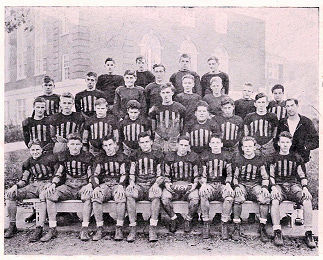 FRONT ROW: Herman Hoegger, James O'Neil, Rexford Huyck, Charles Hilary, Captain Vance Wade, Robert Gorham, Arthur Weeden, Lewis Wood; SECOND ROW: Clarence Myers, Robert Close, William Bure, Benedict Scott, Charles Bishop, Philip DeRock, Edward DeRock, Richard Rushton, Coach Pendlebury; THIRD ROW: Bard Chestney, Harold Dalrymple, William Lord, Woodrow Sisson, George Cooley, Leonard Crofoot, George Dunne, Albert Torino; FOURTH ROW: Charles Hauschild, Clark Burnside, George Oliver, Rene Pittet.
CLASS OF 1956-57
FRONT ROW: Paul McIntyre, Frederick Collins, Robert Krankewicz, Warren Vollert, John MacDonald, John Hendrickson, Bryon Morris, Gary Peck, Brent Terry, Floyd Fisher, Louie Graney; SECOND ROW: John Allen, John Snyder, Herert Best, James Dann Donald Flick, Richard Almy, William Burdick, Robert Fust, Edmund Tognola, Robert Liljequist, Phillip Taber, Victor Kleiner; BACK ROW: Allen George, Daniel Hager, Alfred Bouvier, Glenn Kuhn, Joseph McCauley, James Schroh, Merville Hilary, Edward Ballard, Tony Kemp, Russell Olsen, John Wlasiuk, Richard McCauley, Gerald Curtis, James Colwell.
CLASS OF 1960-61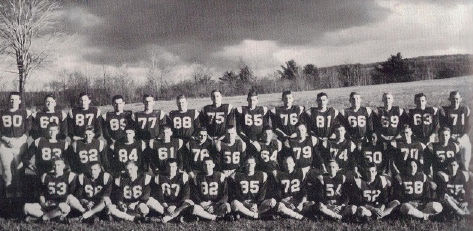 FRONT ROW: Lincoln Blaisdell, Robert Rankins, Vincent Warner, John Petrosky, Philip Anderson, Gary Root, Robert Mathewson Richard Leggett, David Wormuth, Paul Possemato, John Wagner; SECOND ROW: Harry Bouvier, David Loomis, Walter Lawrence, Philip Schmidt, Earl Hendee, Richard Elliott, George Parise, Ronald Smith, Richard Daugherty, Vincent George, William Schmidt, Wallace Scott; BACK ROW: Anthony Smith, Philip Hust, Richard Campbell, Richard Sergio, Jon DeTemple, Larry St. John, James Tyler, Raymond Decker, Charles Bishop, Delzon Hodges, Michael Gallup, Donald Reed, Joseph Hager, Allen Murray.