SPORTS HALL of FAME ATHLETE
Chris Graney '85
DAUGHTER: CHLOE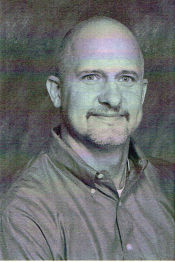 For many student-athletes, they don't realize that the window of opportunity can be fleeting.
Making the most of that window, usually within their four years of high school, is often not realized until years later. For Chris Graney, certainly he did make the most of his opportunities...including representing his school, his state,and even his country in athletic competition.
Chris Graney was one of those boys who seemed to be a natural at sports. Usually the biggest, fastest and strongest in his class, he appeared destined for success in multiple sports. Indeed, his first measuring stick came by being recruited by HOF Coach Doug Quinney for outdoor track & field as a 7th grader, then as a 9th grader making the JV basketball team. Add three years each of varsity football and varsity basketball...well, you get the idea!
Chris's sophomore year in each sport (football, indoor & outdoor track and basketball) was when his impact became a major factor for Sidney. In football, he played wide receiver and defensive end. Statistics were not readily available here, however....he DID establish the school record at that time for most receptions in a season with 23 (senior year 1984-85).
Basketball was a team sport where statistics just sort of "appeared" under the name Graney. For example, his sophomore campaign of 1982-83, Chris was voted to the Susquenango League Western Division's 2nd team by virtue of his 11.8 scoring average backed with a solid 7.7 rebounds per game. While those numbers don't bedazzle anyone, they were remarkably consistent. He would go on to earn 1st team status in his junior and senior season. As a senior, Chris would lead the Warriors to a division and overall Sus League title while finishing 16-6. The Warriors advanced to the Section IV Class semifinals for the first time since 1980.
As for his real claim to fame, it was track & field - or maybe just &field in his case - where the Hall of Fame credentials came shining through, particularly in the discus for outdoors and the shot put indoors. No question he preferred the discus; yet Chris was still able to qualify twice for the indoor NYS meet by throwing 44' 4 3/4" in the shot as a junior - second in Section IV - and nearly matching that as a senior.
Breaking it down even further, discus was THE event...and it could be said that Chris Graney was the first of many large-impact athletes mentored in the weight events by Hall of Fame Coach Larry Armour. After a promising sophomore spring placing 4th in the State meet (158' toss). Chris was encouraged by Coach Armour to go beyond the scholastic parameters and compete in organized summer meets. So besides the Scholastic Division for the annual Empire State Games, a hefty 155' 10" throw at the Adirondack Association Junior Olympics Meet meant advancement to the next round, a regional event held at Brown University. That performance, though less than his best at 149' 8 1/2", earned Chis a berth in the National Junior Olympics (called "Athletic Congress National") meet where he placed sixth.
The following year, he set a new discus school and Sus League record (n/a). Someone had his eye on the tall and lanky senior-to-be as the next huge honor came his way. Chris was literally hand-picked by St. John's coach Duffy Mahoney to throw the discus as part of a US scholastic contingent versus a West German team in Cologne, West Germany. And as a finale to his local high school career, he established another new school and league mark of 168' 10".
He later went on to Mohawk Valley CC only to see a back injury prematurely end his track days. Chris earned his Associate's degree there, and finished with a Bachelors from RIT.
A single dad to Chloe, Chris Graney has made a successful career in the world of restaurant management, overseeing the training for 20 Wendy's Restaurants in the Myrtle Beach, SC area.
Congratulations to Chris as part of the Class of 2017 in the Sidney Alumni Sports Hall of Fame.