SPORTS HALL of FAME ATHLETE
Gerard 'Jeri' Mirabito '79
Partner: Susan Mercado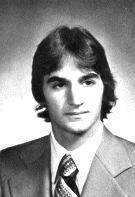 Gerard Mirabito, known to one and all as "Jeri", began his early childhood as a very blessed boy, especially since he was raised by such a wonderful mother and father. His parents taught him the confidence and showed their support by encouraging him and showing him a great deal of love and understanding. Jeri has fond memories growing up on James Street with his four brothers, one sister, many cousins and lots of friends in Sidney. Mornings included fabulous French toast cooked by his mom, a French lesson from his sister and a game of cards with his grandfather.
He could never escape fast enough to join his friends for a ball game at "the courts". When they could, he and his pals would play all day until it got dark, or until his mom rang the bell so he could get home quickly before all the meatballs were gone. Jeri cherished playing with his childhood friends at the Pearl St. School playground. This served as a favorite venue where the likes of Willie, Jimmy, T, Brian, Rudy, Cat, Ed and Richard fought to see who could get to the top of the monkey bars first. Almost fifty years later they still get together and reminisce about old times.
Elementary school's top highlight for Jeri was being crowned the 6th Grade Chess Champion and he also won a 5th Grade Wrestling Tournament. Junior high brought organized sports. There he learned new skills, sportsmanship and teamwork. In high school he was President of the Youth Service Council and a member of the Varsity Club and Future Farmers of America.
The two seasons Jeri played varsity basketball were among the most productive in school history. 1977-78 saw the Warriors march to the NYS Class B "Final Four" before losing in the state semifinals. Redemption came in 1978-1979. The "Jones Era" was about to end, as Coach Jack Jones announced his retirement during the state tournament. That motivation, plus spirited cheerleaders, and a John Gregory-led rowdy section made it happen for Sidney. The back-court trio of Jeri, Mark Tacea and Steve Catrine along with fellow senior big men Mark Wycallis, Dave Lambrecht and Mark Schroeder led the varsity basketball team to 25 consecutive wins and they captured the New York State Class B championship.
Jeri was named MVP of the NYSPHSAA Class B tournament, MVP of the Susquenango Association's Western Division, MVP for WCHN radio, and MVP of the Sidney Christmas tournament. He averaged 18.9 points per game and led the team in steals with 101. He was selected as a second team All State player for small schools. Jeri also played center field on the varsity baseball team, where as a senior he batted .348, led the team in stolen bases with 19 and was voted second team Sus West outfielder. He loved playing for Coach Fessenden and with teammates like Don Marble, Tim Doyle and Carl Roof to name a few.
Jeri moved on to college at Potsdam State with his long time childhood friend Joe Lynch, who became his college roommate, As a soph, his team won the 1981 Division III National Championship under Coach Jerry Welsh with a record of 31 and 2. By his senior year, Jeri played point guard and was named captain. The next three years were spent at St John's University assisting Hall of Fame coach Lou Carnesecca. In 1984-85, the 31-4 Johnnies went to the Final Four, and in 85-86, were Big East Tournament Champions. A number of players went on to the pros, including Chris Mullin (Hall of Fame), Walter Berry, Bill Wennington, Willie Glass and Mark Jackson.
The tutorial paid off for Jeri when, in 1991, he was named head coach at Oneonta State. But by 1993, the unthinkable happened - he was diagnosed with MS. Inspired by his high school yearbook quote "where there is a will, there is a way", he spent 7 seasons coaching at Oneonta State, capped by the 1995-96 ECAC championship season.
From 1985 to 1998 Jeri was owner and operator of Golden Valley Sports Camp, which in its peak hosted over 3000 campers per summer. He was also a member of the Converse Advisory Board in the 90s and Co-Director of the New York State Basketball Coaches Clinic. In 1999 he founded Pro Camps of America. After directing many basketball camps across the US, he returned home to help care for his lifetime hero father, who was battling Parkinson's disease.
He now spends most of his time with his three loving angels...his sweetheart Susan, his sister Virginia, and his mother Charmalia. When he is not driving his angels crazy, he simply enjoys cutting grass, plowing snow, and eating pasta, Thai food, and sushi. He also spends most evenings watching Jeopardy with his precious mom. He is proud to be a 2014 inductee, along with brother Rick, in the Sidney Alumni Sports Hall of Fame.