SPORTS HALL of FAME ATHLETE
Roxanne 'Roxy' (Olmstead) Birdsall '71
Husband: Jerry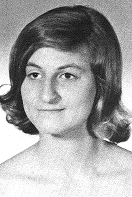 There will be a pair of "firsts" when it comes Roxy Birdsall's induction. And anyone who knows Roxy will understand how difficult it can be to get ANYTHING personal out of her. But we did.
Roxanne Olmstead grew up on Overlook Drive and was close to the definition of "tomboy" as one could be. She played all the sports the boys did - in playground and pickup games. The chance to put her on a Little League team was denied, but it was just one of many barriers that Roxy either sidestepped or smashed through on her way to becoming a student-athlete and, later, a longtime coach at Sidney.
Yes, Roxy is the first inductee we can label as "pre-Title IX", yet hers was the last senior year at SCS before the monumental act was passed. After play-days which were nothing more than one-day "exhibitions" in high school, it would be her first two years at Niagara University when Roxy experienced the real deal of playing legitimate competition. From 1971-73, she played lacrosse and basketball, which were the only two sports offered at that time. Upon her transfer to Brockport, Roxy transitioned to a three-sport schedule in 1973-74 - volleyball, bowling and golf. As the story goes, that volleyball team was good enough that they played in the post season, which prevented her time to prepare for basketball. So... Roxy moved to bowling for the winter, then played golf in the spring. Her final season of eligibility saw two seasons of golf (fall & spring) with bowling in between.
Those sports would serve her well once she returned to her alma mater to be a middle school physical education teacher and coach. In 1982, she took over the JV field hockey team which coincides with tonight's Legacy team. Some of the players from the 1983-84 state finalist Warriors played JV with Roxy, Looking at a sporadic list of win-loss records, it should be no surprise that her best fall camping in FH was 1989, when the team finished 10-2-2. Many of those players would be on the NYS Champions of 1991-92.
Varsity volleyball was a winter sport when Roxy was coach, and you may remember that the strategy was different then, as only serving teams could score points. 1983-84 was her debut season, and like hockey, statistics seem to be scarce. However, her teams of the 1990s decade appear to have been her best. 1990-91 (11-4), 91-92 (10-7), 93-94 (16-7), 94-95 (13-9) all led up to a division co-championship in 1996-97 (22-4 overall / 11-1 league) and a Section IV championship in 1998-99 (12-2). This was the era of the Susquenango Association's best volleyball. Note that as a winter sport (other schools played in the fall or spring), basketball players were not eligible to play. Otherwise...who knows?
Golf, always a favorite sport of Roxy's, moved its scholastic season from spring to fall in 2001, which enabled Roxy to become head coach. What luck! Roxy continued the tradition of nurturing terrific Warrior golfers for the next 13 seasons. Overall, Sidney won 112 dual matches and lost only 51 for a winning percentage of 68.7. The highlight came in 2009 as Sidney won all 12 of its league matches, were rarely tested, and qualified two golfers Kevin Davie and Mike Wright - for individual Section IV medalist play. Along the way, Craig Dawson and Dan Griffith (once each), and Brett Pendorf, Davie, and Wright (twice each) competed for top Section IV honors.
Aside from coaching, Roxy spent many off-school hours playing one sport or another for many years. Women's and mixed softball and volleyball, bowling leagues, and for years she and Jerry paddled together in the General Clinton Canoe Regatta Mixed Relay race on the "Partying Paddlers" team. And then there is one other sport to discuss....
We saved the best for last. Golf. Thanks to Jerry we can tell you that Roxy's golf accomplishments include: Sidney's champion (38 times); Oneonta CC champ (19); Delaware County champ 6 times; and countless NYS Amateur women's events.
The other "first" that completes the biography? She is the first Sidney graduate to be inducted, in part at least, as a coach. Interesting thought: Which Roxy Birdsall do YOU know better? Either way, let's all welcome her into the Sidney Alumni Sports Hall of Fame.